Fuburg and its subsidiaries are primarily engaged in the manufacturing and sales of paper-based sanitary products such as adult and baby diapers, wet wipes, and other hygiene products. These products are essential daily necessities and offer advantages such as disposable use, no need for washing, and convenience. With the increase in national income, improvement of living standards, and the formation of good hygiene habits, there is a steady trend of increasing demand for these products.
A.Series for Adult Nursing and Care
In 1985, Fuburg pioneered the introduction of adult diapers to the domestic market, marking a significant milestone as the first in the country. As the population continues to age, elderly welfare has gained prominence. Industries catering to the elderly, such as senior homes and assisted living facilities, have rapidly expanded. Consequently, products targeting the senior demographic have become a focus for manufacturers.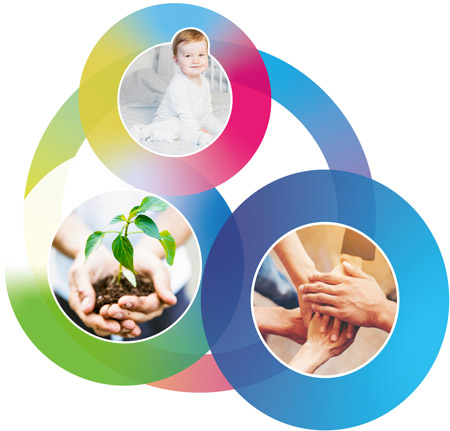 With the rising prevalence of chronic illnesses among the elderly, the number of people with incontinence issues has also increased. According to statistics from the Ministry of Health and Welfare, 77.1% of individuals aged 54 and above suffer from one or more chronic diseases, with around 31.2% experiencing activity limitations due to health problems lasting over six months.
Based on data from the Taiwan Pulp and Paper Industry Association, the sales of adult diapers in both domestic and international markets amounted to approximately 577 million pieces in 2022. Despite challenges posed by the pandemic and the subsequent rise in international shipping costs, total sales volume decreased by 1.2% compared to the previous year. While domestic sales remained relatively stable, international sales experienced a decline of 6.3%.
According to statistics from the Ministry of the Interior, the elderly population aged 65 and above in Taiwan reached a total of 4.086 million people by the end of 2022, representing a 3.7% increase from 2021. As the domestic population of senior citizens continues to grow, the market for adult diaper products remains promising.
Both underpads and diapers are designed to complement the use of adult diapers (cloth) for comprehensive incontinence protection. As the demand for adult diapers grows, the market for these products has also expanded significantly. Underpads, in addition to catering to adults, can also serve as hygiene solutions for pregnant women and infants' mattress protection.
Responding to consumers' positive perspective on urinary incontinence issues, there has been a gradual increase in demand for light urinary incontinence products. The demand for rehabilitation pants, active underwear, and incontinence pads has been steadily rising, reaching a market share equivalent to that of adult diapers in terms of sales volume.
B.The market for baby diapers and wet wipes by Fuburg Corporation.
Diapers are essential products for every newborn baby. However, the birth rate in our country has been declining year by year. According to statistics from the Ministry of the Interior, the number of newborns in Taiwan was about 139,000 in 2022, a decrease of 9.6% compared to 2021. Although baby diapers are considered mature products with numerous brands and intense competition in the market, the impact of declining birth rates has led to an increased willingness among parents to invest in their children's needs. Manufacturers are emphasizing the advantages of their products, such as ultra-thin design, excellent breathability, wetness indicators, strong absorbency, and convenience in movement, to attract parents' attention.
Wet wipes products are undergoing innovative development in terms of target users, packaging, materials, formulas, and functions. New composite materials are being introduced to enhance surface texture and dirt absorption capabilities. The target users of wet wipes are expanding beyond adult care and baby care to include antibacterial products, as well as venturing into areas such as pet wipes and household cleaning wipes. This broadening of the user base is contributing to increased sales performance for wet wipes products.
C. Eco-Friendly Material Products
In response to the public's growing concern for environmental issues, product development is also incorporating eco-friendly materials in design. For instance, the use of wood pulp for flushable wet wipes and the introduction of environmentally friendly and reduced-plastic adult diapers. By offering products that contribute to environmental conservation, the company is fulfilling its social responsibility and making efforts to protect the planet.
D. Pet Products
Compared to the continuous decline in the birthrate, the number of pets owned by people in the country has been increasing annually. According to data from the Council of Agriculture, the number of registered pets grew from 1.227 million in 2017 to 2.95 million in 2021, and it is projected to reach 4 million by 2025. According to a pet consumption behavior survey conducted by the Institute for Information Industry in 2021, pet owners spend an average of NT$5,000 per month, totaling around NT$60,000 annually. Estimating based on the current consumption patterns, the total market opportunities in the pet-related industry could reach NT$240 billion by 2025.
E. Other
Fuburg also has ongoing new product development projects for other women's products, medical and healthcare products, etc. With the growing emphasis on healthcare and the increasing demand for over-the-counter medical and beauty products, the market holds significant development potential.
The new product and service under development plan.